From October 18 to 21, organized by the Overseas Education School, a team of five Kazakh students from JUFE participated in the 2019 Yichun China International Farm Fitness Invitational Contest and the 8th National Farm Fitness Contest, and won the second place in the international group.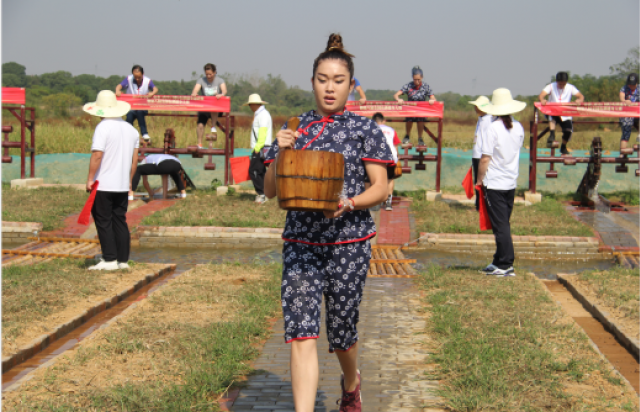 The competition was sponsored by Jiangxi Sports Bureau, Jiangxi Agricultural and Rural Department, Jiangxi Education Department, Jiangxi Red Cross Society and Yichun Municipal People's Government. It was held in Gao'an Bafuluo Ecological Valley, Yichun City, and aimed to strengthen international leisure sports exchanges and implement the national strategy of healthy China and national fitness. There were international teams, provincial and municipal teams, city teams, with a total of 46 teams including 21 provincial and municipal teams, 11 teams from various districts and cities in Jiangxi province, and 14 teams from countries along the one belt and road initiative, with a total of more than 300 participants. The competition included six single contests, namely, resisting the drought by riding the waterwheel, lotus picking in the lotus pond, getting the wife back to her mother's home by cart, grain harvesting in threshing ground, pulling together to sawn the wood and fish catching in fish ponds. The competition was flexible in form and rich in content, with strong cooperation, challenge, competition and interest.
Before the competition, our athletes carefully studied the rules of various events, actively discussed strategies and competition skills, and made full preparations for the competition.
In the competition, our athletes were united and cooperative, dared to fight hard, and constantly challenged their physical fitness limits. They achieved the first place in one of the single contests and the 2nd place in 4 single contests.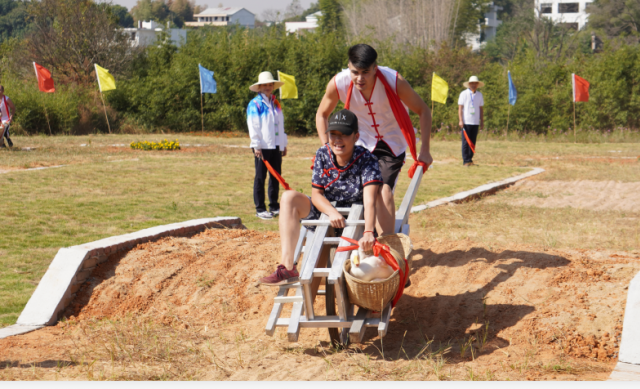 Among them, pulling together to sawn the wood had the highest difficulty coefficient. Our athletes carefully studied and watched the competitions of other participating teams on the spot, and quickly mastered the essentials of movements. The fish catching project in the fishpond was the hardest. The athletes fell down countless times in the fishpond, their faces covered with mud and soaked to the skin, but they still did not give up the task of catching fish.
The whole competition was full of fun and laughter from beginning to end. After the fierce competition, the Kazakhstan team of our school and the Chinese team tied in the total score, but because the Chinese team won more the first place in single competition, we finally won the second place in the international team.
​

After the competition, captain She Yang said: the competition was very interesting. I like the farming culture I experienced very much. I learned to row a boat and use a saw. I am very grateful for this opportunity to participate in the competition. I also hope that the players to participate in next year's competition will continue to be active and achieve better results.